Image: SNH
Seagrass can absorb & store carbon 35 times more efficiently than a rainforest
Seagrass is a flowering plant (angiosperm) found in the marine environment. They form underwater meadows around Scotland's marine environment.
"I am thrilled for the four community groups involved in this Hope Spot designation.
In my experience there are few drivers of change more powerful than when a community discovers what it cares about. This is the start of a positive journey for the region, and I am so happy these communities have put the Argyll Coasts and Islands on the map.
The area is truly outstanding with some of the finest seagrass meadows I have seen anywhere. At Project Seagrass we aspire to contribute to the narrative of 'hope' by active restoration of previously lost seagrass meadows within the designated area."
– Dr Richard Lilley, Founding Director Project Seagrass
The meadows provide shelter and act as nursery grounds for commercially important species such as Plaice and Flounder. They also are home to Pipefish, Native Oysters, Sea slugs, burrowing Anemones, Bivalve molluscs and burrowing Urchins underneath the sand.
Image: Sea slug (Nudibranch) – SNH                               Image: Native Oyster – SNH
Estuarine seagrass is an important source of food for whooper swan, mute swan, brent goose and the wigeon.
The roots of the seagrass stabilise the sediment which slows coastal erosion.
Image: SNH
Current Research
Project Seagrass carry out surveys to map the seagrass and restore and replanting lost meadows. This data provides an insight into carbon sequestration and the importance of these nursery grounds for commercial species of fish and shellfish.
History
Seagrass evolved from plants on land around 75-100million years ago. In the 1930s almost 90% of eelgrass in Britain died from a wasting disease – which may have been caused by a fungus. Alien species, such as Spartina angelica and Sargassum muticom can harm the seagrass through competition.
Threats
The meadows are damaged through trampling, dredging and coastal development. Pollution from urban wastewater or farm run off (nitrates) has been seen to reduce seagrass meadows. Globally, 30,000km2 of seagrass has been lost in the last few decades (18% of global area).
Get Involved
Project Seagrass has released a smartphone app SeagrassSpotter and is encouraging people to take part in this Citizen Science project. In April 2019 the total number of seagrass sightings on SeagrassSpotter reached 100.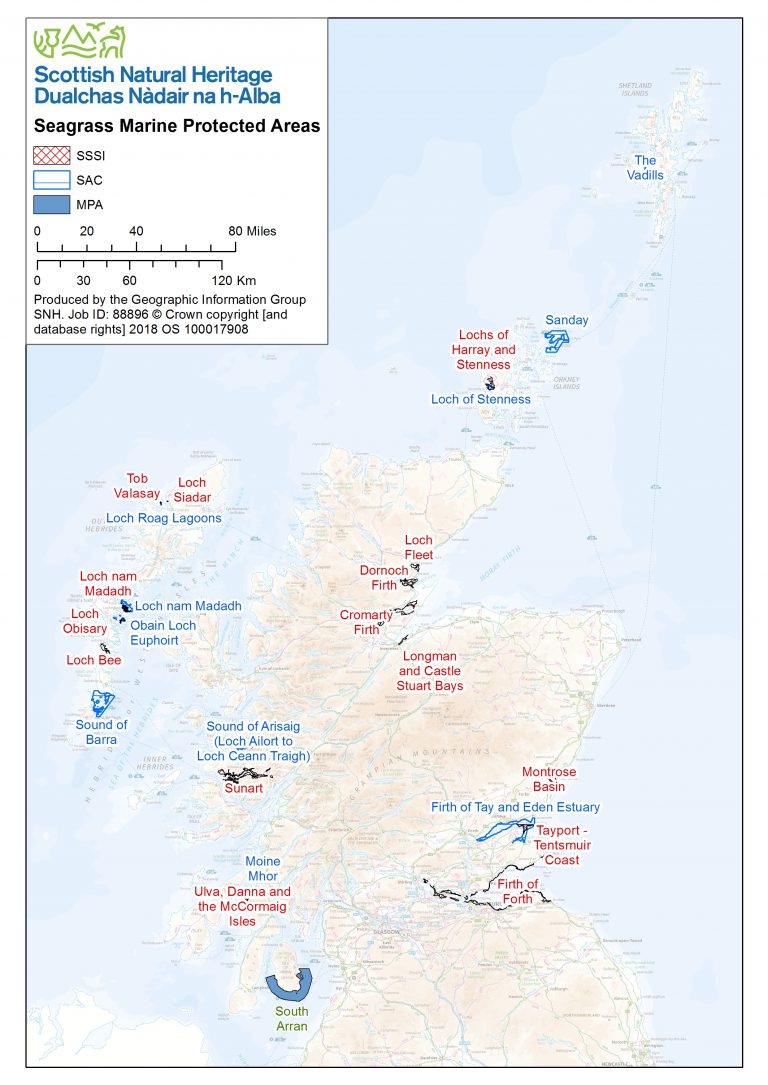 Seagrass (Eelgrass)
Zostera marina & Zostera noltei
Length: Several km2
Depth: Subtidal – 4m